While statistical software is imperative for quantitative and qualitative data analysis, being able to produce high quality typeset text to showcase the results is very important. To help instructors and researchers with this task, MacKichan Software just released version 6 of its three software: Scientific WorkPlace, Scientific Word and Scientific Notebook.
Version 6
offers a choice of operating system: Windows or OSX and also allows saving and exporting documents in multiple formats taking advantage of a new Mozilla-based architecture. A new look with streamlined layouts for the toolbars and symbol panels allows the users to easily navigate through the commands.
Version 6 maintains the front-end side of the software to LaTeX saving the time and efforts for users to learn the syntax of LaTeX.
The new version offers
extensive document production features
including importing files from earlier versions, multiple document production options, preview and print directly from the program window, improved and scalable fonts with support of left-to-right and right-to-left languages.
Version 6
allows users to draw 2D and 3D plots with plenty of options to enhance and animate the graphs.
Scientific word processing products all share the same easy-to-learn, easy-to-use scientific word processor. You use natural mathematical notation to enter and edit mathematics in the same environment as text. Convenient, configurable editing and symbol toolbars simplify your work. And you can quickly learn to enter equations, create tables and matrices, import graphics, and perform a standard array of document-based tasks.
These word processing products export directly to HTML, with mathematics exported as graphics or as MathML. Publishing mathematical documents on the Internet has never been so easy.
Scientific WorkPlace and Scientific Word use LaTeX, the industry standard for mathematics typesetting, to produce beautiful mathematical documents. When you typeset your documents, LaTeX automatically generates tables of contents, footnotes, indexes, bibliographies, and cross-references. Scientific WorkPlace and Scientific Word simplify the production of journal articles, books, and other large documents.
Scientific WorkPlace and Scientific Notebook add the MuPAD® computer algebra engine for symbolic and numeric computation. The mathematical expressions you create are live. With just a mouse click, you can evaluate, simplify, solve, and plot mathematical expressions right in your document. No complex syntax is necessary. Use the built-in Exam Builder to construct exams and course materials algorithmically, and generate, grade, and record quiz results on a web server. Scientific WorkPlace and Scientific Notebook are ideal for long distance learning and classroom instruction, and for writing reports, research papers and homework.
Mathematical Word Processing
With Scientific WorkPlace, Scientific Word, and Scientific Notebook you can enter mathematics easily with the mouse or, as you gain confidence and familiarity, with keyboard shortcuts.
LaTeX Typesetting
In Scientific WorkPlace and Scientific Word you can choose to typeset complex technical documents with LaTeX, the industry standard for mathematics typesetting. Because of its precision and quality, publishers and writers of scientific material use LaTeX extensively. When you typeset, LaTeX automatically generates footnotes, indexes, bibliographies, tables of contents, and cross-references. This typesetting power comes without you having to learn LaTeX. Scientific WorkPlace and Word automatically saves your documents as LaTeX files.
Computer Algebra
A computer algebra system, or CAS, is a mathematics engine that performs the symbolic computations fundamental to algebra, trigonometry, and calculus. Recent versions of Scientific WorkPlace and Scientific Notebook include the kernel to the computer algebra system MuPAD. With MuPAD, you can evaluate, factor, combine, expand, and simplify terms and expressions that contain integers, fractions, and real and complex numbers, as required in simple arithmetic and algebra. You can also evaluate integrals and derivatives, perform matrix and vector operations, find standard deviations, and perform many other more complex computations involved in calculus, linear algebra, differential equations, and statistics. Additionally, you can create 2D and 3D plots of polynomials, trigonometric functions, and exponentials, and you can create animated 2D and 3D plots and explore them with the MuPAD VCAM window.
The product that is right for you depends on the tasks you need to accomplish:
| | | | |
| --- | --- | --- | --- |
| Task | WorkPlace | Word | Notebook |
| Create mathematical documents | ✓ | ✓ | ✓ |
| Typeset your documents with LaTeX | ✓ | ✓ |   |
| Publish books or journal articles | ✓ | ✓ |   |
| Collaborate with LaTeX users | ✓ | ✓ |   |
| Compute symbolically and numerically | ✓ |   | ✓ |
| Publish on the web | ✓ | ✓ | ✓ |
| Develop a mathematical website | ✓ |   | ✓ |
| Write exams and course materials | ✓ |   | ✓ |
| Plot and animate 2D and 3D graphs | ✓ |   | ✓ |
| Teach and study mathematics and science at the undergraduate and secondary school levels |   |   | ✓ |
New Features in Version 6
Version 6 expands important features that were present in earlier versions of the program: compatibility with other software and systems; a rich interface based on the logical separation of content and appearance; the natural entry of text and mathematics; the ability to perform mathematical computation with MuPAD 5® inside your Scientific WorkPlace 6® and Scientific Notebook 6® documents; and easy creation and production of complex, highly formatted printed documents.
Multiple Platform Capability
Now with Version 6 you have a choice of operating systems: Windows® or OS X®. With its entirely new Mozilla-based architecture, Version 6 provides more flexibility for your workplace. You can save or export your documents in multiple formats according to your publication and portability needs. Your documents are saved as XML files, making them completely portable across platforms. Sharing your work with colleagues is easier than ever.
New Look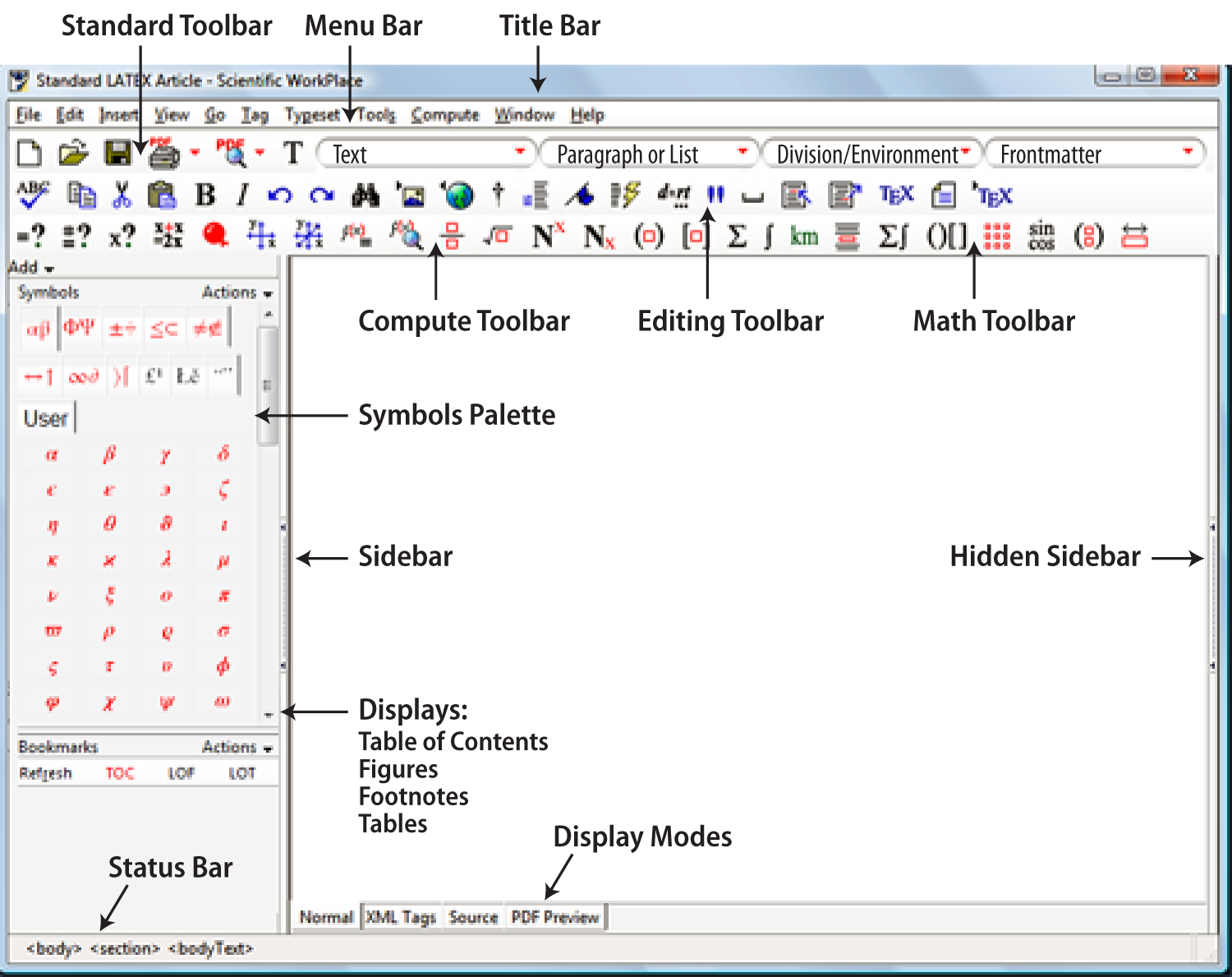 The program window has been updated with streamlined layouts for the toolbars and symbol panels. Most tools work the same way they did in earlier versions, with a mouse-activated tooltip giving the name of each toolbar button and panel symbols. With Version 6 you can display your document with or without XML tags, as XHTML source code, or PDF (except in Scientific Notebook).


Easy Sharing of Documents
Documents and all files related to them (embedded files, plot files, etc.) are automatically bundled together. You only need a single file bearing the extension .sci to share a document. You can seamlessly import TEX files created with earlier versions of the program, and you can export any document as a TEX file. In XML and XHTML files, Version 6 represents your mathematics as MathML. This makes it easy to create XHTML web files for the representation of your mathematics on various platforms over the Internet with a browser. Note that the browser recommended for Version 6 is Firefox, not Scientific Viewer.
Document Production
Undo
Multiple levels of Undo are now available, allowing you to undo an unlimited number of previous editing changes from your current session in the document.
Check Spelling
On the
Windows®
platform spell checking in realtime is provided using inline spell checking from
MySpell
.
MySpell
provides a free open-source dictionary for over 40 languages. Misspelled words have a wavy red underline.
There is also a Check Spelling dialog box where you can choose to replace a misspelled word, or to ignore the suggested corrections. You may also specify which language to use.
On the
Mac®
the spellchecker uses the
OS X®
dictionary.
Speed Document Formatting
Common tasks such as section head and footnote formatting are simpler. The page layout you define in a new WYSIWYG interface translates directly to
TEX
.
Fragments
Version 6
allows you to create fragments containing XHTML code,
TEX
code, graphics, or anything else that can go on the clipboard.
Tables
There is a new visual interface used to create tables to the exact dimensions you need.
Edit Efficiently
Leaving dialog boxes open while you make replacements and corrections saves time.
Language Support
Version 6
supports any left-to-right or right-to left language that is supported by your operating system.
Layout
The page and table layout interfaces are new.
Improved and Scalable Fonts
Use
pdfLATEX
and
XƎTEX
to create documents with a wide variety of scalable fonts. With
XƎTEX
you can use any OpenType font installed on your computer, as well as Unicode and associated extended Unicode TrueType fonts. The program includes the latest version of
LATEX
and
AMS;
macros. The packages yield ligatures and kerning in all text when documents are typeset.
AMS-LATEX Documents
By choosing a shell that uses
AMS-LATEX
typesetting specifications documents are formatted automatically.
REVTEX
REVTEX
is a package of
LATEX
macros designed for preparing physics manuscripts. The software includes a shell with typesetting specifications for producing typeset documents for several different publications.
MuPAD 5®
Version 6 uses MuPAD 5 as the embedded computer algebra system.
Windows® 7 or above; OS X® 10.10 or above (with Intel® processor)
800 MB - 1 GB hard disk space, depending on the type of hard drive and the installation options selected
Internet connection
Student versions of all three products are available at greatly reduced prices and fulll functionality.